The company was founded in 1996. Through years of hard work by the company employees, Pleass Global steadily grew and expanded activities into food and beverage packaging.
In 1998 the company ventured into bottled water production; the refillable bottles for water coolers.
And in 2005 as part of the company's expansion in the bottled water market, suitable land was sought for the construction of a bottling factory "at source". In 2008, 420 acres of pristine lowland tropical rainforest was acquired in Namosi, Viti Levu, Fiji. This was the same land from which Pleass had, until then, been extracting it's source water under agreement with then land owner.
That land, now known as Kila World, has a 300 acre residential subdivision called Kila Estates. The remaining 120 acres is the water catchment and has the extraction wells for the company's bottled waters. Also on those 120 acres, the company has developed an organic farm and Kila Eco Adventure Park, in order to preserve the organic status of the water source land.
In 2007 the company expanded water bottling from the existing refillable water cooler bottles into PET small sizes of bottled water. Initially bottling 600ml and 1.5L bottles the range now includes dozens of bottles and package sizes including the popular sizes of 110ml cups and bottles of 250ml, 350ml, 600ml, 1.0L, 1.5L and 3.0L.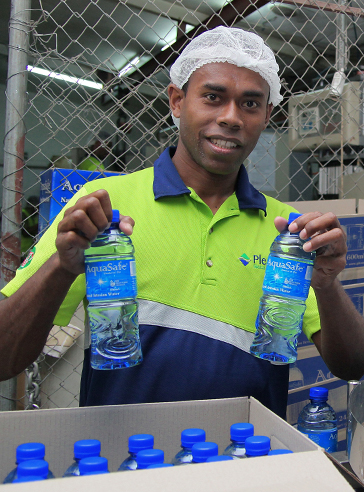 Our waters are branded AquaSafe®, VaiWai®, Hakwa and a range of custom labels manufactured for our clients.
Today the company is well equipped with modern and flexible production equipment which allows it to bottle small custom label orders up to large scale export orders.
Registered Name:
Pleass Global Limited
Trading Names:
Pleass Beverages & Packaging / Mosquito Control Pacific
Status:
Public Corporation, South Pacific Stock Exchange(Code PBP)
Major Brand Names:
AquaSafe® bottled natural artesian water.VaiWai® natural artesian water.
Party Time® disposable tableware, party items plus food and beverage packaging.
Mosquito Magnet® Mosquito Control Equip.
Commenced Trading:
June 1996
Head Office Location:
16 Amra St, Walu Bay, Suva, Fiji Islands
Postal Address:
P.O.Box 10241, L. B. E., Suva, Fiji Islands
Email:
Sales & Marketing: Contact Us
Website and links:
Pleass Global
VaiWai
www.pacificmosquitocontrol.com
Phone:
(+679) 3308803
Fax:
(+679) 3308804
Directors:
Catherine Jane Pleass
Warwick Glenn Pleass
Bruce Sutton
Ashnil Prasad
Laurel Vaurasi
Fomiza Bano
Company Secretary:
Sandeep Kumar
Auditors:
BDO FIJI,Suva
Level 10, FNPF Place,
343 Victoria Parade,
Suva,
Fiji.
Phone: +679 331 4300
Fax: +679 330 1841
Email: info@bdo.com.fj
Employees:
120

Mission
To delight consumers with waters of distinctive design, character, taste and quality.
Refresh
Ultimate hydration solution, brands associated with style, health, activity and lifestyle
Respect
Hallmark of all that we do for customers, consumers, shareholders, employees and communities
Rethink
Constantly deliver innovation and excellence
Reduce, Reuse, Recycle and Recover
Deliver environmental and sustainability gains with integrity and purpose through the famous "4 R's".
Vision
To be engaged with consumers globally and admired for our brands and values.